Scottish Rite 32nd Degree Cap
Scottish Rite 32nd Degree Cap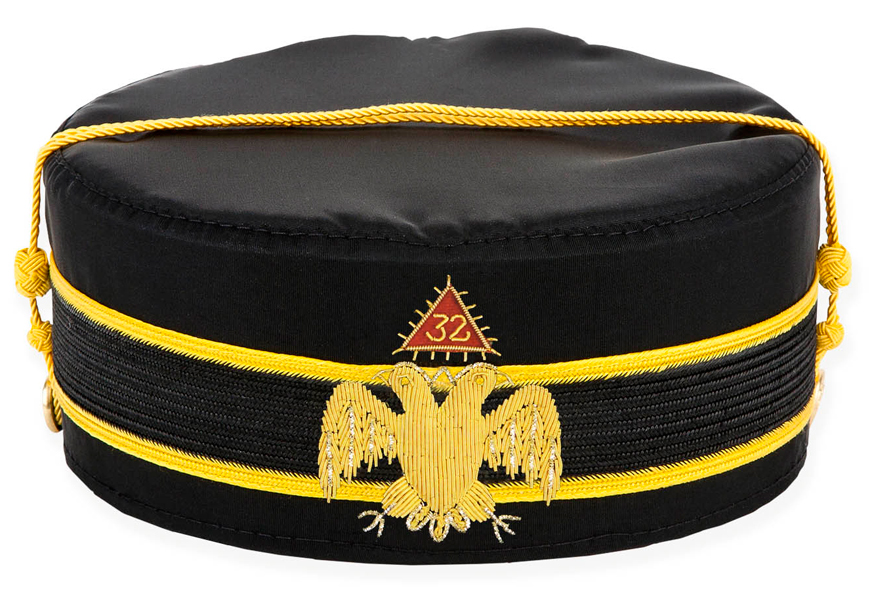 The Impressive Scottish Rite 32nd Degree Cap
With attention to remarkable detail, the Scottish Rite 32nd Degree Cap is impressive by any measure. Featuring a black overall appearance and a black band trimmed in fine embroidery fashion with gold, this is a cap that is sure to catch the attention of those who appreciate quality. The cap is further defined in the center front with a double-headed eagle emblem. The wings are positioned downward and there is a triangle above with a numerical value of 32. Even the red triangle is embroidered with a trim of gold for a stunning work of art.
Highly Respected Among Members
As an added feature, the Scottish Rite 32nd Degree Cap has carefully placed across the top, a gold cord that finishes off for a complete look. With so much to offer it is clear to see why this as with other similar caps are so highly respected among members. From Fezzes to a wide range of Scottish Rite related items, D. Turin is a company with a proven track record when talking about quality products. With years of experience in the industry, this is one company that simply gets it right in putting quality first.
D. Turin is the Smart Choice
The Scottish Rite 32nd Degree Cap is just one more example of the detailed work each product encompasses. Whether it is products related to the Shriners International or Masonic related products as well as Scottish Rite items, D. Turin is the smart choice. The company is dedicated to offering customers the best in tassels, accessories and even car decals and car emblems. Contact D. Turin today for more information.