Fezzes
Fezzes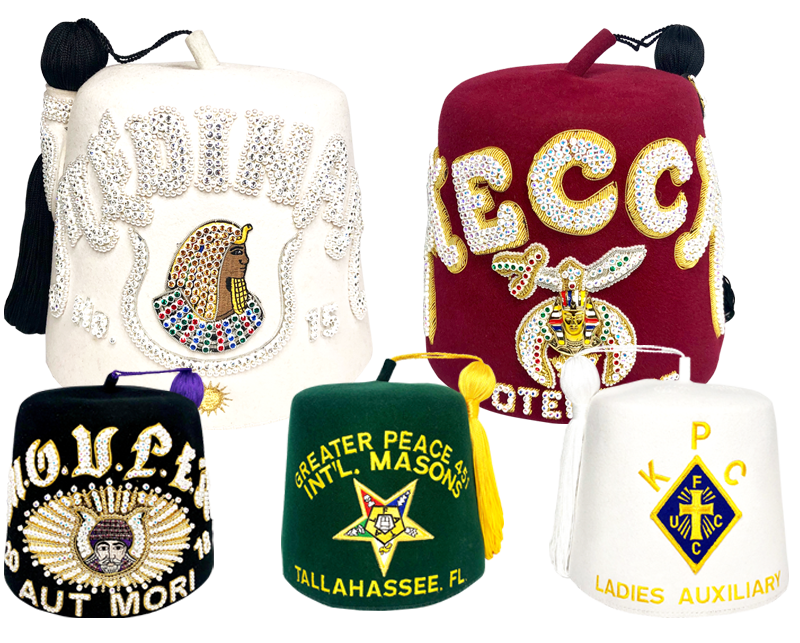 D. Turin Co. has been in the business of designing and manufacturing top quality fezzes in the United States for 95 years. We serve numerous Masonic organizations including Shriners, the Grotto, Sciots, as well as Ladies Masonic affiliates, Daughters of the Imperial Court, Circle of Perfection, O.E.S and Ladies Oriental Shrine. Many others include Order of the Alhambra, Knights of Peter Claver, A.M.O.S. and D.O.K.K.
All our fezzes are designed and manufactured in our Hialeah facility using domestic and imported materials which are covered by our 100% satisfaction guarantee. When you order your fez from D. Turin Co., you can rest assured that it will give you many years of service to proudly wear to your function.
AS WITH MANY MANUFACTURING COMPANIES, WE HAVE BEEN SEVERLY IMPACTED BY SUPPLY CHAIN DISRUPTIONS BEYOND OUR CONTROL. MANY COMPONENTS PROMISED TO US FROM OUR SUPPLIERS HAVE BEEN DELAYED DUE TO THEIR OWN LABOR AND COVID ISSUES. WE WILL DO THE BEST WE CAN TO DELIVER YOUR ORDER ON A TIMELY BASIS, BUT PLEASE UNDERSTAND THAT DELIVERIES MAY BE DELAYED BEYOND OUR USUAL TIMEFRAME. THANK YOU FOR YOUR UNDERSTANDING DURING THIS DIFFICULT TIME!