History of a Masonic Fez
History of a Masonic Fez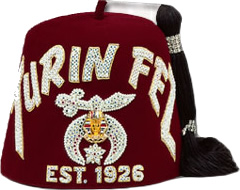 For over 93 years, D. Turin & Company has been specializing in fez construction and hand and machine embroidery. The company was founded in 1926 by Mr. David Turin, grandfather and great grandfather of the current management. He believed in satisfying the customer with quality and service.
The fez is one of the most recognizable symbols of Shriners International and was adopted as the Shriners` official headgear in 1872. Named after the city of Fez, Morocco, the hat represented the Arabian theme the fraternity was founded on -- Members customize their fez to show their allegiance to their temple.
At DTurin, we offer a wide range of customized Masonic Fez options along with many other masonic and shriner gifts, fraternal order apparel and merchandise.