Coronavirus "COVID-19" Update #3
Coronavirus "COVID-19" Update #3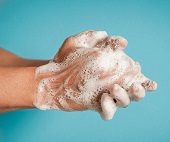 To Our Valued Customers,
As we are all affected by these difficult times we are living through, with situations that change daily, we are letting you know that D. Turin Co. is still in operation, and here to serve your needs.
We have some essential staff on premises serving the important needs of our local cities in this time of crisis, providing them with the garments they need to perform their duties. We are also in the process of beginning to produce non-medical 100% cotton face masks to aid the general population in protecting themselves at a reasonable cost and donating a portion of our production to those in need.
We would also like to let you know, that while most fraternal activities have been postponed for now, we still have people working at home that can fulfill your current or anticipated needs in the future. We do have a quantity of manufacturing inventory on hand for current use, but as this situation progresses, we can not speak for our suppliers of raw materials. It is a possibility that they may not be able to supply us in a timely manner, the components we would need to produce your fraternal item.
It is for that reason that we are asking you to think about what you might need now, or later on this year and place your order as soon as possible so you can be assured that you will get what you need before we could possibly have some other supply disruption that we will have no control over.
We wish you all the best and know that we will overcome this horrible situation we are all living with.
Thank you for your continued patronage and understanding!
Sincerely,
The Staff & Crew of D. Turin & Co. Inc.