Corona Virus "Covid-19" Statement from D. Turin & Company
Corona Virus "Covid-19" Statement from D. Turin & Company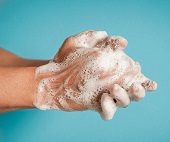 Dear Our Valued Customers,
We are in unprecedented times. With the ongoing spread of COVID-19 (coronavirus) and theincredible speed at which things are changing around us, we are continually adapting our operations and business.

D. Turin and Co. will continue to do business as long as the situation allows. We have been in continuous operation for nearly 100 years, through war time and The Depression, and will be there serving your embroidery & fraternal needs in the future. At this time you can expect no changes or delays in orders being shipped through USPS or UPS.
Orders can still be placed over the phone or online at www.dturin.com. However, our production staff may be cut back as business allows and for the safety of our staff and their families, our showroom will be closed to the public until further notice. We apologize for any inconvenience.
PICK UP orders will STILL be available under the following guidelines without exception:
1. PICK UP HOURS 10a - 5p. CLOSED FOR LUNCH FROM 1PM-2PM, NO PICKUP ALLOWED DURING THIS TIME.
2. ORDERS CANNOT BE CHANGED, ADDED TO OR MODIFIED IN ANY WAY AT PICK UP.
3. WE WILL NOT BE TAKING ORDERS IN THE SHOWROOM, YOU MUST CALL IN YOUR ORDERS AND WE WILL LET YOU KNOW WHEN IT WILL BE READY FOR PICKUP.
We appreciate your understanding and cooperation.
Thanks for doing business with us at this difficult time. We have faith in the United States and the various Organizations with which we work that all of us will emerge from this Stronger and more United than we were before!
Sincerely,
David Plask
V.P.
D. Turin and Co., Inc.
305-825-2004
www.dturin.com